STOP MORRISON'S DICTATORSHOP! Some photos of vaxxed blood and vaccines! All vaxxed will die!
by Michael Palomino - Oct.7, 2021
NORMAL BLOOD: blood cells like billiard balls - VAXXED BLOOD: like cooked and dried spaghettis: blood cells piling up clinging to each other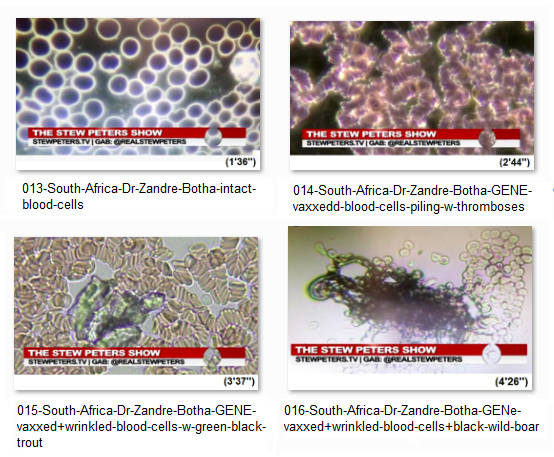 South Africa with Mrs. Dr. Botha: comparison between intact blood cells and GENE vaxxed wrinkled blood cells with objects in it like a trout or a wild boar [1]
OBJECTS in the vaxxed blood: nobody knows what it is, only cr. Pfizer and Moderna know
Here is the link of the video with Mrs. Dr. Botha from South Africa: Link:
https://www.bitchute.com/video/Sffxfn2Q7RGA/
See also here the difference between healthy blood cells (round) and vaxxed damaged blood cells (forming lines and clots):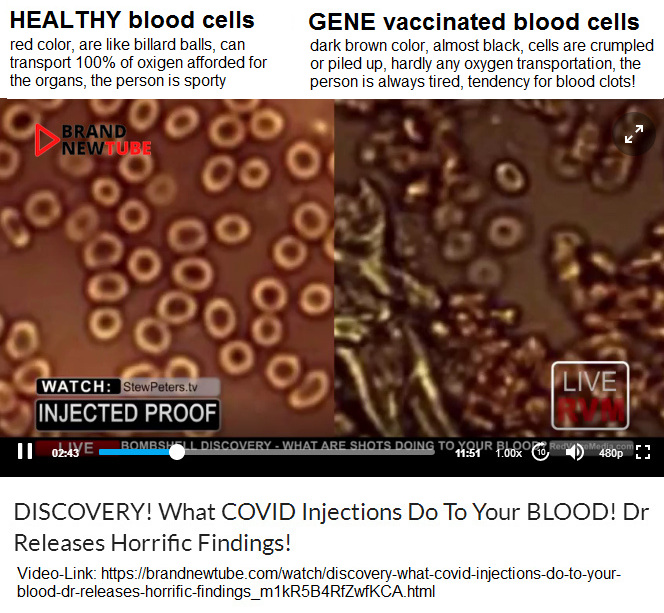 Comparison between healthy blood and GENE vaxxed wrinkled blood cells which cling together and form clots and thrombosis [2]
This video is for example here: Link:
https://www.bitchute.com/video/DW5aZQCK8YBc/
Here are more photos of the vaxxed blood cells forming lines and clots and objects swimming in the vaxxed blood: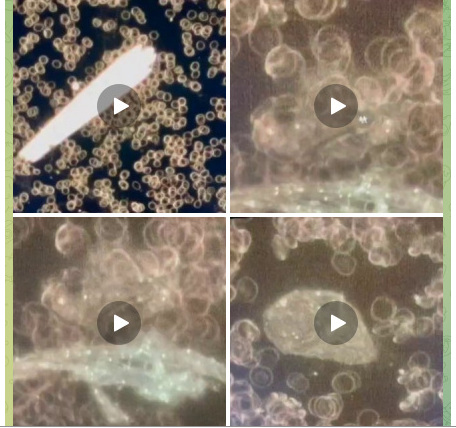 GENE vaxxed blood with piled or wrinkled blood cells and with objects in it [3]

These videos are from a Telegram channel:
https://t.me/Impfschaden_Corona_Schweiz/21273
See the color difference between NORMAL HEALTHY BLOOD (red) and VAXXED DESTROYED BLOOD (dark brown almost black):
Healthy blood is red, and compare it with the GENE vaxxed rotten blood which is dark brown up to black [4]
When you know vaxxed people, or if you are vaxxed, you can see your blood under the microscope like this: 70% get real deadly vaccines, 30% get placebo and have normal red blood yet.
See what is in the "gene vaccines" which are NOT vaccines:
The Pfizer vaccine is NOT a vaccine but is an experimental weapon: See how it develops at 37 degrees body temperature:
Link:
https://www.bitchute.com/video/2nb5io2vdMvP/
The mortal Pfizer injection under the microscope with 37ºC body temperature: The development shows crystalline structures [5]
The whole world is wondering why the Australian Morrison dictatorship is defending these vaccines which are NOT vaccines but are chemical weapons for killing people with the exception of those who get placebos. Here are more things in the vaccines which are weapons:
Under the microscope, chips can be found in the vaccines:
The mortal Pfizer vaccine under the microscope shows chips in form of a submarine or a mobile phone [6]
Here is a link for example of this video: Link:
https://www.bitchute.com/video/pI4AkezQ7OWU/
In the "gene vaccines" this is not only a vaccine, this is a mess of a mixture to PROGRAM and to KILL people with
-- organisms like octopus
-- metals
-- threads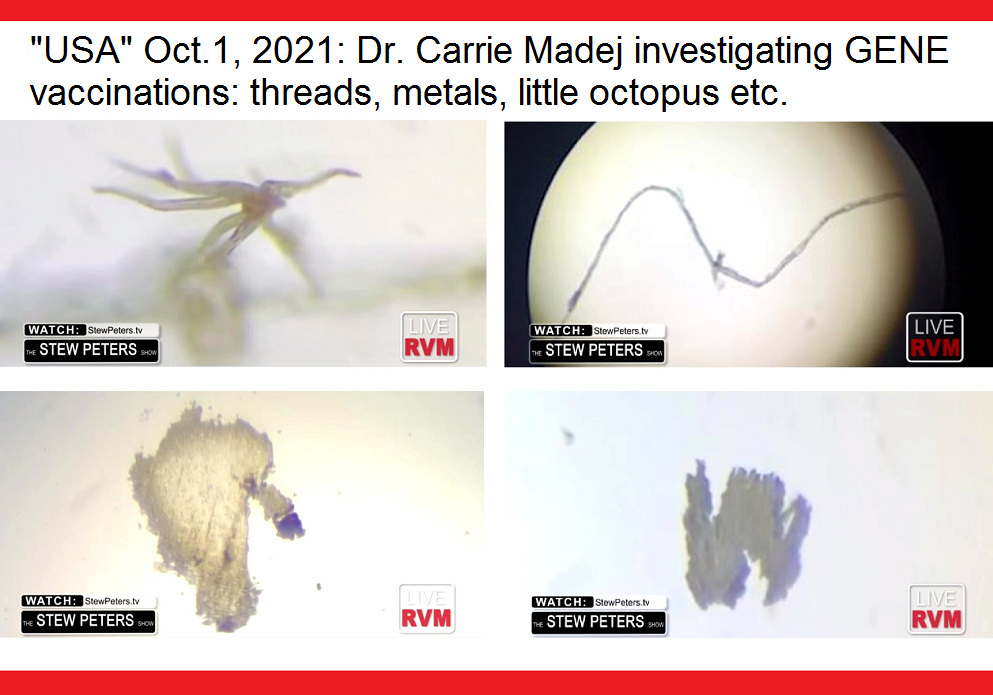 The mortal Pfizer vaccine under the microscope of Mrs. Dr. Madej: She found crazy living octopus, metals and threads [7]
These samples are from Dr. Madej in the "US", here is the link of the video:
https://www.bitchute.com/video/snJmd0xUeqgp/